'2020 will be an interesting year' – Nii Kpakpo predicts
'2020 will be an interesting year' – Nii Kpakpo predicts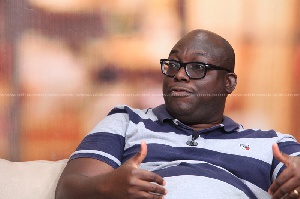 Private legal practitioner, Nii Kpakpo Samoa Addo
Private legal Practitioner, Nii Kpakpo Samoa Addo has stated that the New Patriotic Party (NPP) will have the shock of their lives as Ghanaians are waiting patiently to vote them out of office in the 2020 general elections.

According to him, Ghanaians are so disappointed in Akufo-Addo for making mountains of stunning promises in 2016 and delivering just a tip of it after being elected into power.

He added that people are finding it difficult to make ends meet in this economic crisis.

Stating that 2020 will be an interesting year, the lawyer said: "the Ghanaian is sending a message to Mr. President that times are hard, people are very disappointed, people are very angry and the typical Ghanaian is keeping quiet but is seriously and patiently awaiting 2020″.

This revelation is on the back of the Afrobarometer report that more than half of Ghanaians say the level of corruption in the country has increased and government is doing a poor job fighting it.

It was also reported that GHC 9.6 billion has been lost from the public purse as a result of corrupt practices in the country since 2017.

The police, judges and magistrates, Members of Parliament, civil servants, and tax officials among key public officials in Ghana were most widely perceived as corrupt.

Meanwhile, Ghanaians are calling on government to prosecute, jail and force corrupt officials to return stolen funds.