Step up your game – Kotoko chief to government
Step up your game – Kotoko chief to government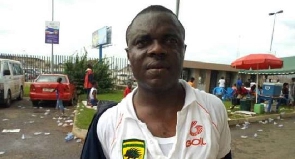 Management member of Asante Kotoko, Nana Kwame Dankwah
Management member of Asante Kotoko, Nana Kwame Dankwah has told government to step up its game if it wants football to develop in the country.

One of the hardest hit sectors of the economy is sports – football to be specific; in relation to the followers and patronage it generates when compared to other sports in the country.

Football clubs have been lamenting of their dwindling fortunes since the emergence of the novel coronavirus which has forced the sport into an unwanted hibernation to contain the spread.

Various sectors of the economy are bracing themselves to receive stimulus packages to reboot them back to life. But little priority is being given to the passion of the nation.

Speaking to Kumasi FM, Nana Kwame Dankwah, a management member of two time African champions – Asante Kotoko – has told government it has a huge role to play if the sport will develop to its fullest potential.

"This is not the time for debate. If we want to develop football, government has a huge role to play. What is the governments' contribution in the development of football?," he queried.

Nana Kwame Dankwah who doubles as the NCC first vice chairman asked governments' specific role it plays in the development of talents.

"Clubs are suffering in this country, developing talents for the national teams, what is governments' contribution to these players? We have many politicians and high ranking people in authority who benefited from government subsidies to get to where they are, can we say same for footballers?,"

"We all need to look at it critically, bring our ideas on board and see the way forward" he concluded.